According to the Wine Institute, vintners across California are expecting a high-quality vintage for 2022 following a season filled with curveballs. For many California wine regions, this was a tale of two harvests, as a Labor Day heat wave divided the season into earlier and later picks. As harvest wraps up across the state, vintners predict that 2022 will produce memorable wines of great concentration and complexity.
In the North Coast, the growing season began with ideal weather conditions through early summer, until an extended heat event beginning in late August accelerated the harvest and reduced yields for some varieties. In winegrowing regions such as Lodi and the Sierra Foothills, mild weather conditions prevailed into early spring, followed by frost that dramatically reduced crop sizes.
Harvest timing was mixed this year, with some appellations, including Napa Valley, starting up to a month earlier than average and others, such as Paso Robles, experiencing an extended harvest. In the North Coast, growers harvested some red varieties as early as mid-August. The Labor Day heat wave caused multiple varieties to reach maturity simultaneously in some regions, which kept vineyard and cellar crews busy through a compressed harvest. Despite the year's twists and turns, consumers can expect to enjoy excellent wines from the 2022 vintage.
California produces about 80% of the nation's wine, making it the world's fourth-largest wine producing region. More than 80% of California wine is made in a Certified Sustainable California Winery and over half of the state's roughly 615,000 vineyard acres are certified to one of California's sustainability programs (Certified California Sustainable Winegrowing, Fish Friendly Farming, LODI RULES, Napa Green and SIP Certified).
Photo credit: Justin Liddell, Destination Films
Winemaker and Winery Owner Comments on California's Growing Season and Harvest
"The early part of the growing season was near ideal, with abundant early season rains and excellent spring and summer weather," said Renée Ary, vice president of winemaking at Duckhorn Vineyards in St. Helena, Napa Valley.
The Labor Day heat event brought record-high temperatures to the region, followed by mid-September rains, which challenged winemakers to practice meticulous grape selection.
"I think our 2022 wines will have a bit more concentration than the previous vintage, especially from the warmer, up-valley AVAs," said Ary. "Our Cabernet Franc and Petit Verdot are some of the best ever and the Chardonnays are bright, balanced and focused. Given the range of ripeness, blending will be important for the 2022 vintage as we balance our early and later picks."
At Silver Oak and Twomey Cellars in the Napa Valley, harvest proceeded at a fast and furious pace. Following a mild summer, the heat wave kicked harvest into high gear, contributing to overall yield reductions of 15% to 20%. Harvest continued at a leisurely rate after temperatures cooled.
"I think it's going be a pretty intense vintage — concentrated and powerful," said Nate Weis, vice president of winegrowing. "Quality-wise, all of the varieties did great." He was particularly impressed by Pinot Noir from the Russian River, Anderson Valley and Santa Lucia Highlands, as well as Merlot and Cabernet Franc. "The quality," he said, "is off the charts."
Robin Baggett, vintner and managing partner at Alpha Omega in St. Helena and Tolosa in San Luis Obispo, Central Coast, noted a wide range of harvest starting dates. "At Alpha Omega, harvest was a full four weeks earlier than last year's in some vineyards," he said.
Severe heat around Labor Day required vineyard teams to pick rapidly and strategically, he noted. "The fruit from our early picks is dark, complex in aroma and firm in texture, while fruit that remained on the vines during the heat event is riper with softer tannins and great flavor concentration," said Baggett. "The overall quality in our Cabernet Sauvignon is very high with strong structure and terroir-driven characteristics. Petit Verdot and Malbec also performed extremely well."
After a dry winter, Tolosa's harvest saw two distinct phases: before the heat wave and after. Single-vineyard fruit came in at a steady pace until Labor Day, followed by a compressed harvest during the triple-digit heat. Lower yields — down around 30% — affected ripening speed, pushing everything to mature at once.
"Everything brought in before the heat wave is promising," noted Baggett, "but you need to cherry pick among the lots brought in post-heat wave to isolate the best ones."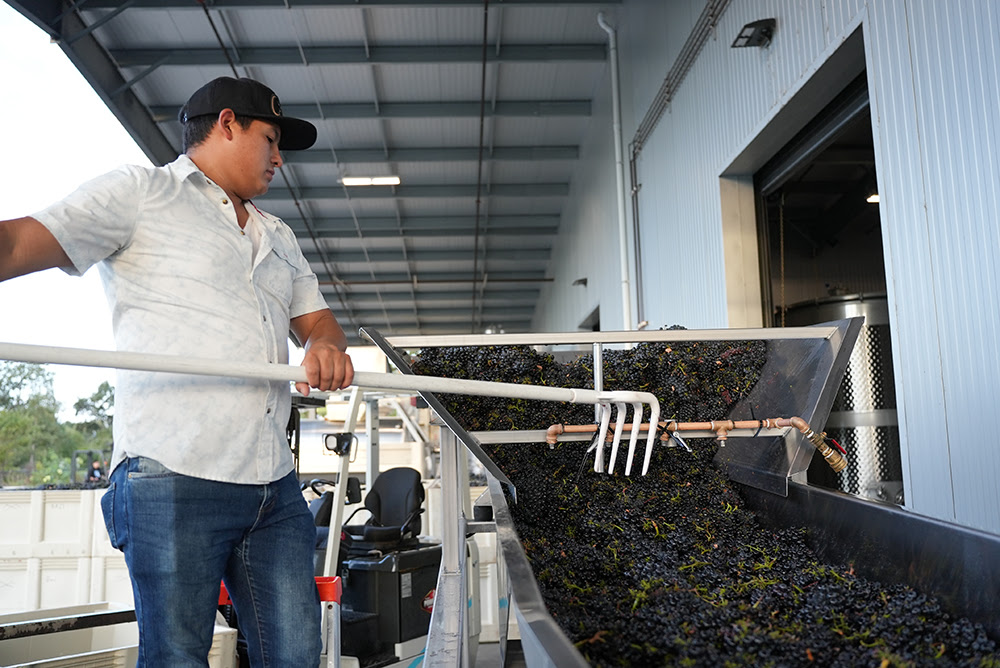 Photo credit: Justin Liddell, Destination Films
Benziger Family Winery in Glen Ellen, Sonoma County, wrapped up harvest just before mid-October, which marks the winery's earliest finish since 2004. "This is one for the record books," said Lisa Amaroli, Benziger's director of winemaking. "A heat wave followed by rain had a whiplash effect, pushing up sugars and then reversing them after the rain."
The growing season was consistent and mild, resulting in healthy canopies. Signs pointed to an early harvest until Labor Day, when temperatures reached 110 degrees Fahrenheit at the winery's Sonoma Coast property. This pushed some blocks into high sugars and quickened the harvest pace. September rain brought a sigh of relief, refreshing the vines and allowing remaining grapes to hang a bit longer.
"All white varieties we have seen from across Sonoma County came in in great shape and are very flavorful with just the right acid balance," Amaroli said. "It was a good year for some Pinot Noir and Cabernet Sauvignon vineyards — albeit with lower yields — while Malbec and Cabernet Franc came in abundant, balanced and fruity."
Jackson Family Wines in Santa Rosa, Sonoma County, which has vineyards in several North Coast and Central Coast regions, began harvesting a couple weeks earlier than normal in many areas. Winemaster Randy Ullom summed up the vintage as "very memorable and wild."
"In certain instances, the heat wave accelerated things and in others it actually slowed them down," he said, noting that vines shut down during extreme heat in order to protect themselves, thus delaying the ripening process. "It depended on the appellation, the vineyard aspect and the watering capacity."
Despite heavy rain in September, botrytis was not an issue due to the health of the vines before the rainfall occurred.
Ullom said he is happy with the overall quality of 2022 fruit. "Pinot Noir from the Anderson Valley and Russian River look especially good," he said, along with Monterey County Chardonnay and Pinot Noir. Sauvignon Blanc produced a larger yield than expected and continued ripening into October in Lake County due to the heavier crop. "That's another first," he said. "We'll remember this for the rest of our lives."
Vintners in the Lodi and Clarksburg regions encountered challenges this year, including a significant April frost event that dramatically reduced yields.
"We thought it all but wiped out some of our north Delta and Clarksburg Sauvignon Blanc, Chardonnay and Pinot Grigio, but it turned out that we did all right," said Aaron Lange, vice president of vineyard operations at LangeTwins Family Winery and Vineyards in Acampo. The winery brought in about 25% of the normal yield for those varieties.
Variable spring weather with unseasonably warm temperatures followed by cool, windy conditions contributed to shot berries and shatter in Zinfandel and other sensitive varieties, yet yield sizes came in around average.
The Labor Day heat wave impacted both scheduling and capacity, while the frost delayed ripening in the whites. "At most major wineries," Lange said, "there was a major capacity crunch from a cooperage and fermentation tank perspective."
Healthy vineyards did fairly well during the heat event, he added, and followed a normal development trajectory. White varieties looked good, Lange said, since vineyard crews picked most fruit prior to the heat wave. Larger canopies helped protect the reds from heat and sunburn.
Likewise, Monterey County faced some tough conditions in 2022 due to early-season temperature fluctuations and heat spells during veraison and in early September. Though the heat wave reduced yields, particularly for Chardonnay and Merlot, the September event was well-predicted, allowing winegrowers to take preemptive irrigation measures. Harvest got off to a quick and early start, about 10 days earlier than average, with multiple varieties ripening simultaneously.
"On the bright side," said Heidi Scheid, executive vice president at Scheid Vineyards in Soledad, "we've found that the smaller cluster and reduced berry sizes have resulted in a significant level of complexity and intensity. We are seeing very good quality — and in some cases truly exceptional quality — for the 2022 vintage."
In Paso Robles in the Central Coast, harvest kicked off early, requiring vintners to utilize their collective knowledge to manage quality, tank space and periodic restarts.
"Despite the challenges," said Stasi Seay, director of vineyards at Hope Family Wines in Paso Robles, "we remain optimistic and anticipate that vintage 2022 will produce fine wines on par with some of Paso Robles' most memorable."
The growing season began smoothly, with minimal frost incidents and temperate weather during bloom and set, Seay said. June crop estimates were slightly below average due to the ongoing drought, and summer was typical with no extreme heat until Labor Day weekend. Extended high temperatures caused vines to shut down, slowing the last of veraison. Unseasonal rains followed, along with warm autumn weather that helped with hang time and fruit maturity.
This was an unusually long harvest in the region, starting in early August and continuing through October's end. "We are optimistic that this vintage will stand out," said Seay, "given our hard work both in the field and in the winery."
Miller Family Wine Company in Santa Maria, Santa Barbara County, began harvesting on Aug. 8, a week earlier than expected. The season began with excellent growing conditions that continued into summer, followed by abnormally hot weather that accelerated ripening. Though yields were below normal, fruit quality remained high.
"The vineyard has responded well despite another dry winter," said vineyard manager Greg O'Quest. "The minimal amount of rain was not enough to supply the vines with much-needed water, so supplemental irrigation began sooner than expected."
Following a uniform bud break during the first week of March and a mild frost season, late spring brought unusually windy and cool conditions for fruit set. Summer boasted ideal weather with only a few days breaking the 100-degree mark. Typical high temperatures occurred in July and pest pressure was minimal. "The 2022 vintage was blessed with normal summer temperatures that allowed a full canopy to develop before the heat hit in August," O'Quest said.
Late-season reds fared best in terms of yields, he added, and Cabernet Sauvignon has been a stand-out variety thanks to its hardiness and ability to deal with high temperatures. Smaller clusters this year resulted in deep, dark color and higher quality.
View the full 2022 California Harvest Report, including regional reports from Amador County, Calaveras County, El Dorado County, Lake County, Livermore Valley, Lodi, Mendocino County, Monterey County, Napa Valley, Paso Robles, San Diego County, Santa Barbara County, Santa Clara Valley, Santa Cruz Mountains and Sonoma County.
DOWNLOAD THE FULL 2022 CALIFORNIA HARVEST REPORT
About Wine Institute
Established in 1934, Wine Institute is the public policy advocacy group of 1,000 California wineries and affiliated businesses that initiates and advocates state, federal and international public policy to enhance the environment for the responsible production, consumption and enjoyment of wine. The organization works to enhance the economic and environmental health of the state through its leadership in sustainable winegrowing and by showcasing California's wine regions as ideal destinations for food and wine travelers to the state. To learn more about California wines, visit DiscoverCaliforniaWines.
Recipe for Homemade Hot Chocolate with Red Wine
This homemade hot chocolate with red wine is a cocktail that doubles as dessert!
2 cups dark or semi-sweet chocolate chips
½ cup brown sugar packed
¼ cup cocoa powder
½ tsp cinnamon
⅛ teaspoon salt
5 cups whole milk or almond or coconut
1 750- ml bottle fruit-forward California red wine such as Merlot or Zinfandel
Marshmallows or whipped cream for serving
Slow Cooker Method:
Whisk the chocolate chips, brown sugar, cocoa, cinnamon, salt and milk together in a slow cooker set on high. Cover and allow to come to temperature (10-15 minutes), then whisk again and add wine. Cook on high for one hour, stopping to whisk every 20 minutes.
Ladle hot chocolate into mugs and top with whipped cream or marshmallows and enjoy.
Stovetop Method:
Whisk the chocolate chips, brown sugar, cocoa, cinnamon and salt together in a large saucepan or stockpot. Add milk and bring to a low simmer over medium-low heat, whisking often. Once hot chocolate is blended and smooth (about 8-10 minutes), reduce to low heat and add wine. Cook for 5 minutes more. Ladle hot chocolate into mugs and top with whipped cream or marshmallows and enjoy.
Sheet-Pan Chicken with Chickpeas, Carrots and Lemon
Spice rub:
1 teaspoon sea salt
1 teaspoon sweet paprika
1 teaspoon ground cumin
4 bone-in chicken thighs, about 2 pounds (900 g)
1 can (15 oz/425 g) chickpeas, drained and rinsed
½ pound (225 g) carrots, thinly sliced on the diagonal
½ red onion, thinly sliced from stem to root
1 small lemon, halved lengthwise (quartered lengthwise if large), then sliced
4 cloves garlic, thinly sliced
½ teaspoon ground cumin
1 teaspoon sea salt
Extra virgin olive oil
1/3 cup (10 g) coarsely chopped cilantro, plus a few whole leaves for garnish
Serves 4
In a small bowl, combine the spice rub ingredients. Sprinkle all over the chicken and set aside.
Preheat the oven to 425°F (220°C). Line a 9 x 12-inch (23 x 30 cm) rimmed baking sheet with parchment paper.
In a bowl, combine the chickpeas, carrots, red onion, lemon, garlic, cumin, salt and 1 tablespoon olive oil. Toss to mix, then arrange in the baking sheet in an even layer. Arrange the chicken thighs on top, not touching, and drizzle 1 teaspoon olive oil on top of each one.
Bake on a center rack for 40 minutes. With tongs, set the chicken aside on a plate. Add the chopped cilantro to the vegetables and stir to mix and moisten everything with the chicken juices. Remake the bed of vegetables and replace the chicken on top. Bake for 5 minutes longer. Remove from the oven and let rest 5 minutes to allow the chicken juices to settle. Tilt the sheet pan and spoon some of the juices over the chicken.
Transfer to a serving platter or to individual dinner plates and garnish with cilantro leaves.
Photos courtesy of the Wine Institute.